Let's go on operation and see a troop insertion. We'll be riding on a Zippo. The convoy gets underway from either the Benewah or the Colleton.
We'll pass T-112-4 and drop in behind M-111-3
I think that's an old French bunker (below), a remnant of another war...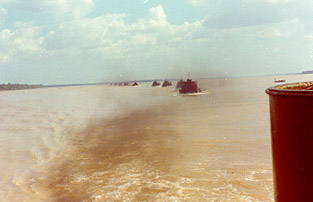 The river narrows... we arrive at our destination.
Not quite the same insertion but it's all that was available.
B&W photo above courtesy Albert Moore and the Mobile Riverine Force Association, taken by PH1 Ed Stanton.
River Division 111 Pictures 1
River Division 111 Pictures 2
River Division 111 Pictures 3
River Division 111 Pictures 4