Uniforms in the MRF
We were a rag tag bunch on the boats and our uniforms reflected that front-line mentality. I think even the officers turned a head knowing that the guy in that rag tag uniform might be giving up his life the next day. Here are a variety of the uniforms (?) I wore while on the boats:
Cutoffs with irish pennants that would make my boot camp Chief roll over in his grave, no shirt, non-issued sandals, and a stinky flak jacket that smelled of the sweat from previous boat crews.
Sometimes a t-shirt.
Sometimes a t-shirt with the sleeves cut off. Note the dirty Ked's tennis shoes.
Most of the time no shirt at all. That's scotch and water in the cup which was probably also against regulations to have on the boat. I expect the hair and handlebar moustache were as non-regulation as the non-uniform.
Sometimes the stuff looked like rags. Well, we were after all, rag boat sailors. (Riverine Assault Group)
Sometimes a dungaree shirt.
Usually, if I was in dungarees, it was when we were alongside a ship (here, the Sphinx) and I had access to a laundry to wash all the dirty green rags which I wore on a day to day basis.
Sometimes cut off sleeves to help beat the heat.
During the monsoons in the summer a rain slicker and the black beret.
Wheat jeans cut offs.
After we joined RivRon15 we were given camouflage berets. I had one pair of Army greens which served as a dress uniform. Although this was taken while I was in Nha Be shortly after joining RivRon15 I still had my RivDiv111 patch on this uniform.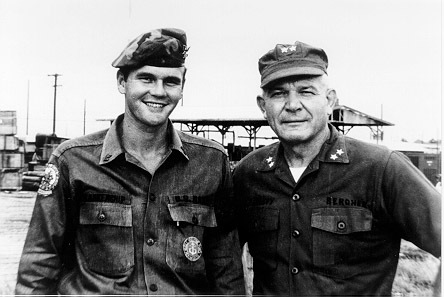 Probably the dressiest uniform was a set of marine greens. I was still proud of that RivDiv111 patch even though I had been in RivRon15 for several months when this pic was taken. The only time I shaved off the moustache was when my former commander RADM Allen Bergner visited me at Dong Tam.
The marine greens with black beret on liberty in Saigon stopping traffic for a blind man.