I returned to Dong Tam in early November with a premature short timer's attitude. I thought that as long as I couldn't be on a boat, that I may as well be going home. No such luck, however, as I was assigned shore patrol duty (on crutches) in the EM club where we played lots of pool and drank lots of beer daily. For the most part it was boring, except for the harrassing mortar fire that Charlie kept throwing in every other day or night. Usually, just three or four rounds. Enough to disturb your sleep and then it was over. With a fatalistic attitude, most of the time I just stayed in my bunk in my hooch rather than run to stinky, wet, muddy bunker for protection. On one occasion, I had a change of heart. As I was heading over to the mess hall about dusk, I was about 50 feet down the road from my hooch when a mortar round exploded directly south of me about 100 yards. The nearest bunker was in that same direction so I took off running (this was early December and the foot had mended well). As I turned the corner of the hooch toward the bunker, the second round went off in the exact spot where I was standing when the first round exploded. I was glad they were not in reverse order. A third round went off and that was it. Just a little harrassment, but it sure made me think a lot about it when I saw the crater made by that round. From that point on it was watch my butt, and let me outta here. See the pic of buildings on this page for a pictorial explanation of the above mortar attack.
On New Years Day I was on a plane for Sydney, Australia. This was the best R&R destination available and you usually had to wait until your 10th month or more to get it. I loved Sydney and almost immigrated there after I returned to the US out of the service in 1971. My new wife was even enthusiastic and had a cousin who lived there. Unfortunately, I had saved up for two years for a music system that set me back over $1,000 (a lot at that time), and I would have had to pay that much in tax if I wanted to take it with me to Australia. That ended that.
I left Vietnam on February 9, 1970 with George Sanchez, who became my best man at my wedding on February 21. George had another career in the Coast Guard and sold marine supplies here in San Diego. I saw him last at the 1998 MRFA reunion here in San Diego. George passed away from Agent Orange related prostate cancer in 2002.
After getting married I was stationed aboard the USS Hector (see the Post Vietnam link). We went to Sasebo, Japan from Long Beach and down to Vung Tau, where we repaired the ships that had been repairing our boats at the MRB. Note the picture of the Hector with the Benewah and the Sphinx rafted along side. What a turnaround.
I returned with my wife to Oklahoma City and went to school on Uncle Sam for four and half more years. With a Masters Degree in Business, and the start of a career in commercial property management and brokerage. I moved my wife and three-year old daughter back to San Diego where we have lived ever since. I am currently a resident of Ramona, California, a farm community northeast of San Diego.

RADM Allen Bergner (ComNavServGrpIII) flew down from Japan to see me. This was the only person in the world I'd shave my moustache to impress. I grew it back after he left and kept it for about 22 years thereafter, until it started getting too gray: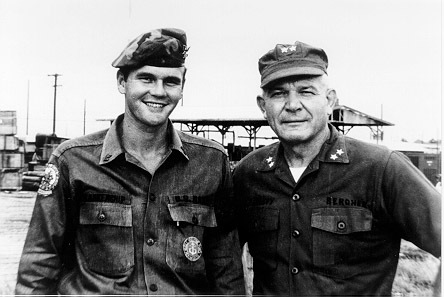 RADM Caldwell presents my Purple Heart:
Dennis Carter, one of my classmates at NIOTC, is next in line on my right to receive his Purple Heart.

Poor quality picture of our hooch and our cleaning lady (can't remember the guy's name):

Aerial view of Dong Tam (photo courtesy of Howard Kramer, see Links page for his web site):

Thanks to Bill Patterson for this map of the Navy side of Dong Tam. Click on it to view.

Help identify Dong Tam Navy buildings here.