The Mobile Riverine Base
Above photo courtesy of Albert Moore and the MRFA, taken by PH1 Ed Shinton, June 1968. B&W Photo below courtesy of the MRFA and PHC William Dodd, combat photographer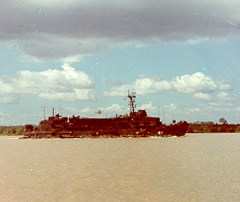 The MRB was our home for several months during my year. Mostly on the APB Benewah or Colleton, Repair ships Sphinx and Askari, and many others for supplies, ammo, fuel, and a hot meal, showers, laundry, and an occasional haircut. A visit to the ship's store was about the only shopping available. One of the best things about getting on the ship was picking up mail. Mail was the link to home, the link to what we called "back in the world." Thoughts took us back there often...
Clowning around with some borrowed newsman's gear.. "Duh, dis war sucks." Peace is an illusion.
A bunk away from the diesel fumes.. cool.
The Benewah I think... and some of the most vivid sunsets I've ever seen.
The support ship sailors were unsung heroes who kept us supplied and played an important role in keeping the boat guys and 9th Army moving around the rivers and taking the fight to the enemy. Some boats were not as lucky as others in being around the Mobile Riverine Bases. They were out in the far reaches of the delta at remote bases or pontoons and often had to survive on C-rations rather than hot meals from a ship. Thank you support ship guys for all your hard work!
River Division 111 Pictures 1
River Division 111 Pictures 2
River Division 111 Pictures 3
Troop Insertion