A day in the Rung Sat Special Zone escorting ships up the shipping channel. In between ships, we scoured the immediate area, took in some rays, got hot and sweaty in the August sun and by night fall we were ready to return to Nha Be for liberty in the bars. The early bird gets the best bar stool, so cleaning up on the way back was the smart thing to do.
First, grab a bucket of river water and the shave cream... then trim the moustache: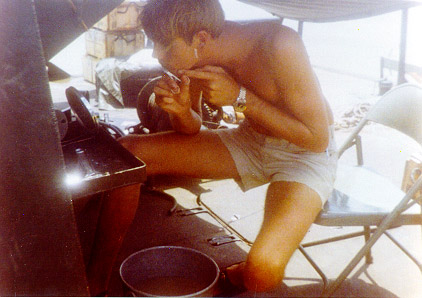 There was a protrusion of the hull that allowed me to stand up and apply a little Head & Shoulders.. no dandruff.
A quick rinse with that yummy brown water and a little brush of the teeth...
Back in port (that's a PBR behind me) to eat my favorite stuff out of the C Rations box..candy.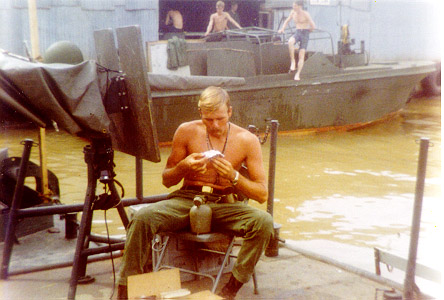 And "Shazam" we're ready for liberty call in those fine establishments along Nha Be's main street where "You buy me tea?" is heard almost as often as "Give me a beer."
That was a day in the Rung Sat Special Zone.