Training at Mare Island (Continued)
Back to Mare Island from a day of training in the Sacramento River delta:
Rough Water of Grizzly Bay (between Mare Island and the sloughs of the Sacramento River Delta):
Rows and rows of WWII Victory Ships:
Part of my our original boat crew (me on the left, Walt Wickizer, our gunner, and Jerry "Mac" McIntosh, our engineman):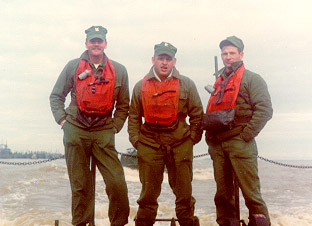 Here's a link to my class graduation photo. Please help me identify fellow class mates of Class 32R.
Games and training over.
Click here to see the training boats used at Mare Island and information about them